The transport industry includes all trains, buses, coaches, airplanes, boats as well as waiting and boarding areas (bus station, station, airport, port, etc.) that can offer Wi-Fi to travelers. Discover, in a non-exhaustive way, how ADIPSYS solutions meet the specific needs of transport, what benefits are derived from it as well as examples of applications.
Meet the expectations of the consumer (Wi-Fi service included)
Push the customers to rate your company to improve your reputation

Attract new customers to your lines and reward your loyal customers
Measure the customer experience lived during their journey through feedback forms
With DNS Protect and Logview, ensure legal compliance: Hadopi law, anti-terrorism decree, RGPD law
Make your company/transport location more attractive
Get at your disposal an exploitable database for the implementation of communication and loyalty  reward strategies
Get a better customer knowledge, and deploy offers customized to their needs and/or improve services of your company/airport/bus station, etc.
Improve customer satisfaction by analyzing feedback forms completed on login portal thanks to Hotspot Manager
Increase cross-selling thanks a highly targeted communication
Optimize the staff's distribution into your company based on the flow of travelers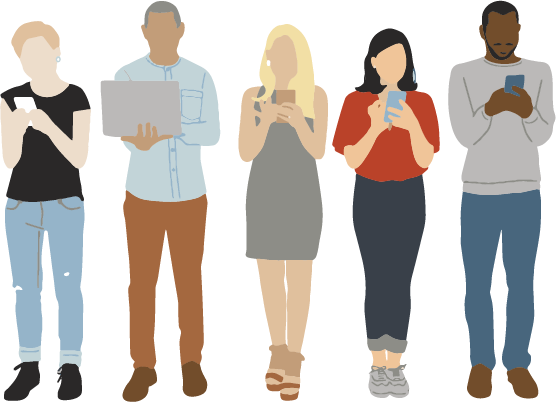 Travelers work during their travel time thanks to a good and secure Wi-Fi connection
Reduce waiting times at checkpoints by allowing customers to buy tickets and/or to do their check-in online
Thanks to Studio, communicate on the services available in your airport (restaurants, duty-free shops, etc.) or in your company (menu, etc.) to promote cross-selling and up-selling
Communicate in the language of your users
Identify your loyal customers with recognition of their device connected to the Wi-Fi and reward them with a voucher
Analyze passenger density maps (geofencing) to offer no-queue ticket
Analyze the average connection time of travelers to anticipate a need and improve the frequency of transport
Did you know ?
We give you the opportunity to test Hotspot Manager for free for several weeks so that you can see all the benefits. To do this, simply click on Free trial.